DIIPO FAGUNWA: PROF. KOLAWOLE KAZEEM IS AN AGELESS MAN OF WISDOM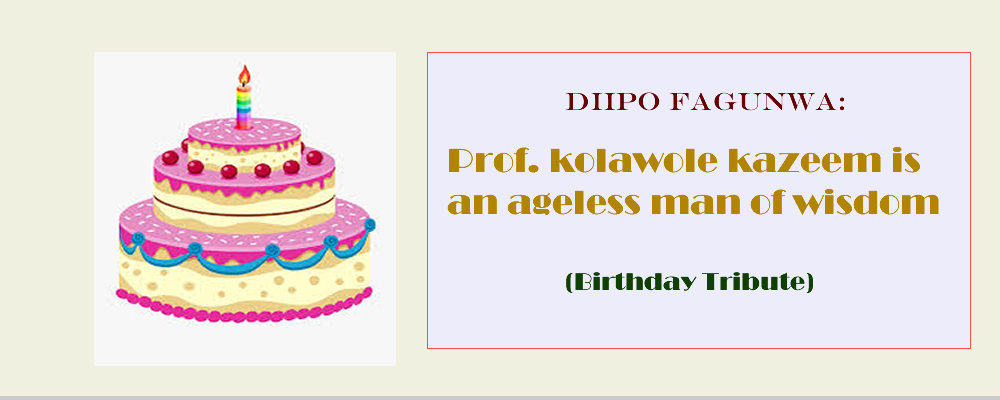 For those of you who wished Professor Kọ́láwọlé Kazeem happy birthday yesterday you lost your school fees. I told many of you a few years back that wonders shall never cease to happen and that June 22 is not Professor Kọ́láwọlé Kazeem's birthday but the world did not listen to me because a prophet like me is never honoured in his bedroom. Professor Kọ́láwọlé Kazeem alias Àrà kay is ageless. He was born two years after the birth of Solomon and was an adviser at his court when the intelligent king tried the case of the two women fighting over the living and dead child. He was one of those who worked to bring down the regime of Nebuchadnezzar for idolatry and ran away from Israel when Jezebel was looking for Elijah.
He ran away to Mecca while Elijah was busy eating food brought by ravens and was named Àrà K to mark his miraculous escape from the hand of Ahab when he got to Saudi Arabia with a K leg. In Mecca, he met Alhaji Abdulfattah Dan Kazeem Ìlọrin with whom he formed a band called Arafat Fújì Maestros. They were the first Fújì musicians in diaspora and the first Fújì musicians in Medina to play Fuji to the glory of Allah on the holy hill. This caused the mount to be subsequently named Mount Arafat after them and their band (Àrà and Fatai Maestroes).
Kọ́lá Kazeem was later kidnapped by whirlwind at a Medina market while arguing over pọ̀nmọ́ (cow hide) and landed in Bermuda triangle from where he used kánàkò (shorten the road) to get to Sambisa forest from where he entered Nigeria without visa and birth certificate. To hide his age, he used his koranic certificate written in Arabic to gain entrance to primary school and was admitted into secondary school with his Fújì permit. He was admitted to OAU with fọwọ́ betí (touch your ears) certificate as evidence of maturity and later admitted to UI for post graduate with his fọwọ́ bẹsẹ̀ (touch your legs) certificate, evidence of his height.
He was made a lecturer at Uniben with the literacy certificate he earned through a love letter he wrote to his wife. Uniben Council had never seen such a letter of academic hilarity before and subsequently made him a Professor of Adult Education after he published a paper on the history of adultery education and Extra-Immoral studies. But the Osun State College of Education Iléṣà played a fast one on Uniben to make him their Provost. He has since been turning the college round with adult education strategies on managing advance teacher education without coronary virus in administration or financial COVID in the 21st century. His ultimate aspiration is to put Kegtology (History of Keg) in the curriculum of adult kegites and then become a UN ambassador of Palmistimology in diaspora.
If you are interested in seeing him today for birthday tete-a-tete, please bring your father's literacy certificate and mother's numeracy certificate with a carton of wine along as proof of ID then repeat after me, "Happy birthday to Professor Kọ́láwọlé Kazeem, a most wonderful brother in whom I am well pleased. God bless your good works in NNCAE".
God bless
Diípọ̀ Fágúnwà